Avoid Water Damage with Proper Yard Preparation
by D.O.N.E. Restoration on 02/02/15
Flash flooding is something Atlanta residents often have to deal with in the colder months, and this can often lead to water damage at properties. Understanding what causes it can help homeowners to avoid yard drainage problems and water-related property damage. So, here's a brief look at the factors that make flash floods occur.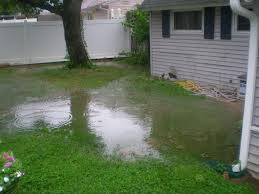 Too Much, Too Fast
Flash flooding results from rain falling heavily on soil that is either already saturated or is poorly suited to absorbing moisture. The water stays on the surface, where it follows the contour of the land, running downhill into low-lying areas.

Another type of flooding occurs when rivers and streams overrun their banks. This is a particular problem for persons who live near such bodies of water. Poor landscaping, absence of retaining walls, and other examples of inadequate preparation for such events inevitably lead to property damage and sometimes loss of life.
Fortunately, there are ways to minimize or even avoid the effects of such disasters.
• Retaining Walls and Drains
Levees, drains, and reservoirs combat flooding in two ways: by preventing water from reaching sensitive areas and by channeling it into dry lakes and stream beds.

• Landscape Grading
Water always seeks the lowest point on a piece of land. A properly contoured yard or building site can turn away floods by placing houses and other structures on high ground. Even grazing pastures for livestock can benefit from the formation of ridges and small hills to deter runoff from heavy rains.

• Grass and Other Plants
Bare soil is a flood's best friend. It erodes quickly, forming gulleys and trenches for water to follow. The result is ugly, scarred patches of land that turn into oceans whenever it rains. The obvious solution is to plant hardy forms of grass, such as Zoysia, Buffalo, or St. Augustine. Their strong root structure binds dirt together, making it shrug off the effects of precipitation.

Sometimes, the Inevitable Happens...

Despite your best efforts, flooding still may occur. If you experience flood or water damage, call us at D.O.N.E. Restoration for immediate, 24-hour assistance. Even on holidays!
770-422-1604